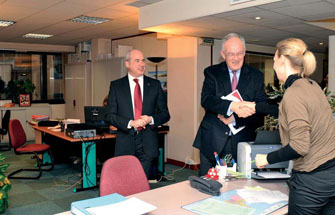 The choice is deliberate: an administrative authorization is required for all professional activity in Monaco. The Government of the Principality would nevertheless like to see it granted more quickly. he new system is presented below.
The decision is enshrined in a Sovereign Order dated 17 April last: the Department for Economic Expansion has been reorganized. Under the leadership of Serge Pierryves, who took over as Director early in December, it has modified its service offering to make the Principality more attractive. This strategy targets all those who wish to set up a business in Monaco.
A swift response
Informed by the Monaco Business Office (see accompanying article), project sponsors should benefit from a quick decision as to whether they may, or not, launch their business in the Principality. Thanks to the setting up of direct communication between different administrative departments and the use of appropriate software tools, the procedure has now been simplified. While candidates can still back up their applications with additional information, the number of documents required in the application file has been reduced from 19 to just six or nine, depending on whether or not the future company includes a moral entity among its shareholders. Apart from the special case of regulated activities, no other documents will be necessary. In this simplified procedure the would-be investor is in fact offered genuine support through the whole administrative procedure. Obtaining a professional authorization has been made even faster by the fact that it is now issued by the Government Council. Once this authorization has been obtained, the investor will still benefit from technical assistance provided by the Department for Economic Expansion for the final procedures: publication of the company statutes in the Journal de Monaco and registration with the clerk of the court's office and, of course, the tax authorities. However, this one-stop approach will not be fully operational before the end of this year.
A successful test
A test was carried out at the end of April to validate the system. It was apparent right from the start that it saved significant amounts of time. Now the Department for Economic Expansion accepts only the new-style forms. Serge Pierryves stresses an important point: "We cannot validate the company's aims before the application is filed. We can only give an opinion." So it is finally up to the Government Council to approve (or not) the applications processed by its departments. The Government is also working on a reform of company law. This involves redrafting the Sovereign Order of 1895 covering public limited companies and the creation of limited-liability companies under sole ownership.
DEE - Department for Economic Expansion (Direction de l'Expansion Économique)
9 rue du Gabian - MC 98000 MONACO
Opening hours: from 9.30am to 5.00pm, from Monday to Friday
Tel : (+377) 98 98 98 00
Fax : (+377) 92 05 75 20
Website