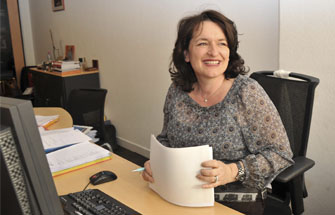 Recently the mission of the system designed to help businesses wishing to establish in the Principality has been extended to the information and installation of future residents. A portrait of the system.
The Monaco Welcome & Business Office (MWBO) is designed as a privileged point of contact for newcomers. Since it is essential for future residents, business people or investors to have access to practical information as quickly and clearly as possible, MWBO is organized to respond to all types of demand, in person, by e-mail or by phone. In its user-friendly, dedicated offices, the MWBO team offers a warm welcome with individual reception for each visitor, often in English or Italian. After carefully studying the profile and needs of their guests, the team selects the tools, information and procedures necessary to bring the project to fruition. A dialogue begins.
A screening tool
With the help of various measures that have made Monaco's administrative services more modern and attractive, such as the simplification of procedures and the new official web site, MWBO can inform project sponsors and direct them towards the essential public or private bodies that will help them install their businesses and their families. When the banking and financial sectors are involved, the investor is immediately put in touch with market specialists and the associations and official bodies in charge of financial activities in the Principality, such as the Budget and Treasury Department, the Supervisory Committee for Financial Activities or the Monegasque Financial Activities Association. Thanks to the helpfulness of its staff, MWBO becomes a partner for future residents, business people or investors, who benefit from tailor-made support, from preliminary surveys right through to the establishment of their projects in the Principality – all this in a time-scale compatible with the economic realities of our era.
http://welcometomonaco.gouv.mc
http://settlinginmonaco.gouv.mc
MWBO - Monaco Welcome & Business Office (Administrative Contact / Business Area)
9, Rue du Gabian (1sr floor)
Fontvieille
MC 98000 MONACO
MBO Welcome desk:
Tel: (+377) 98 98 98 98
Fax: (+377) 98 98 48 70
This email address is being protected from spambots. You need JavaScript enabled to view it.
Read more on www.gouv.mc