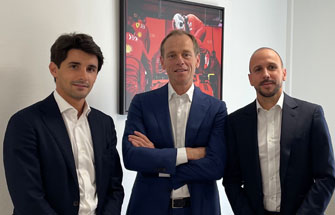 Square Capital was created in 2007, initially to serve exclusively private clients. It now manages €1.3 billion in assets from its offices in London, Paris, New York and Monaco. We meet Hugues Decobert, Co-founder of the company.
Can you briefly describe your background?
A graduate of HEC and holder of an MBA from Northwestern University, I began my career in finance at Goldman Sachs International in 1997 to develop the Group's private asset management activities in France. I stayed there for 8 years as an Executive Director and met my partner, Jacques Benhamou.
We dealt exclusively with the management of very large assets across the entire spectrum of asset classes. My time at Goldman Sachs was seminal in many ways. I met some exceptional professionals there and developed a rigorous and demanding culture which, I believe, is also very strong in our Group.
The evolution of wealth management models towards a certain standardisation and a culture of product distribution clashed with my spirit of independence and was badly experienced by some of my clients. In June 2005, Jacques and I decided to start from scratch and create Square Capital around our values, an independent asset management company, free of conflicts of interest and truly focused on its clients.
What is the DNA of your company?
Quality is at the heart of our approach. Integrity is the core value of our group, along with independence and a culture of accountability.
We build long-term investment portfolios, with conviction assets, while maintaining extremely close links with our clients. We are in constant conversation with them, reviewing investments and our view of the changes taking place, but also listening to them and making sure that what we are doing is in line with their aspirations and understanding of the world.
The quality of the assets in our portfolio and the constant communication with our clients allow us to approach crises with relative serenity.
For us, the two main risks of having capital to invest are:
missing the cycle by not investing, as markets are always uncertain and valuations are rarely at the level you would like to invest in and
selling in the middle of a crisis and making a loss, often a permanent loss of capital.
When our clients invest in quality assets that they understand and are in regular dialogue with their managers about their investments, they are much less likely to panic in the inevitable crashes. In fact, they are more likely to invest during such periods.
Finally, our clients know that all Square Capital employees invest in the same assets as they do: there is no difference between what we invest in for ourselves, and what our clients invest in. This can only be achieved by putting independence, integrity and accountability at the heart of the system.
Our primary objective is to preserve and grow our clients' capital over generations. To this end, we design and manage portfolios tailored to each client's goals and outlook.
You mention your clients' capital over several generations... Are you "conservative" in your investments?
No, we are neither conservatives nor speculators: we invest in quality assets. Our portfolios are readable and understandable. They bring together a relatively small number of investments that are as diversified as possible, and today are mainly composed of quality equities, decorrelated alternatives and cash.
In alternatives, we have a very good knowledge of the managers and funds in which we invest. We invest with a view to diversification. We understand their performance. For example, we invest a small part of our portfolios in funds that we know will only perform well if the markets collapse, and by then their performance will probably be negative. It's all about weighting and diversification. Our assets are all in the portfolio for a reason.
We don't invest in hybrid products or products that our clients don't understand, or that behave strangely in the event of a market dislocation, such as structured products. As a general rule, if we are not able to explain the characteristics of an investment in a simple sentence, there is a problem.
At the operational level, we have split the company into two parts: Wealth Management for large assets, and Asset Management, with a conviction equity fund and a diversified hedge fund. These are really our two core areas of expertise.
What about ESG funds?
We are very sensitive to ESG practices. We have put integrity at the centre of our investment process. In our investment choices, we are convinced that it is in the interest of companies to take into account the entire social and environmental dimension of their actions: consumers are demanding it, employees are demanding it and today investors are making it a necessary condition. I would add that good governance is essential for investors.
So for us, responsibility and respect (towards humans and nature and towards others in general) are at the heart of our values, as is integrity. We therefore favour companies and investments that are like us. This is not exclusionary but truly inclusive. This helps us to separate the wheat from the chaff and also to avoid falling into fashions that are generally the investor's peril.
Why did you move to Monaco?
My first major client at Goldman Sachs was a Monegasque client with whom we developed a special relationship. He placed his trust in us very early on and I owe him everything that makes me happy in my professional life. Monaco therefore has a very special place in my heart and in our success. I have been coming to Monaco every month for 20 years...that's how long it took us to set up in the Principality.
Our business relies above all on talented men and women who share our values and want to go a long way with us. To succeed in Monaco we needed to meet the right person who could embody Square Capital in Monaco.
This is the case with Lorenzo Tolotta-Leclerc, who shares all our values: integrity, competence and a sense of responsibility. Florian Dumas, who grew up in Monaco and spent 10 years with us in London, has now returned home and is in charge of asset management.
I am in Monaco every month and Jacques Benhamou will also be going there regularly. Finally, Matthieu Giudicelli, who is based in our Paris office, also provides support for all equity management.
As you can see, our group is very involved in Monaco, with a strong esprit de corps, as Square Capital Monaco is called upon to play an important role in our organisation.
What do you think of the Principality?
I love Monaco. I believe that to know the Principality well you have to spend time there. Those who go beyond appearances discover skills worthy of the greatest nations, not only in finance but also in medicine, science, law and institutions. And all these skills are accessible... This is not the case in many countries.
Monaco is everything at once: a country, a city, a village, all of which is constantly changing.
When you see the assets of Monaco, it is surprising that it is not a more important financial centre. We hope to make a modest contribution to its becoming one.