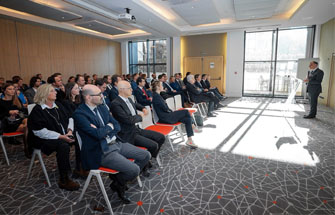 In March 2021, the Government Councillor - Minister of Finance and the Economy, Mr Jean Castellini, launched the "Monaco Finance Durable" initiative. This was to echo a whole series of actions carried out in the Principality in terms of the environment and sustainable economy. This initiative was characterized on Wednesday by the first "Monaco Finance Durable" forum which took place at the Novotel, in the presence of entities and innovative companies from the Monegasque marketplace.
During his opening speech, Mr. Jean Castellini emphasized the investment strategy of the Constitutional Reserve Fund (FRC) in the field of energy transition and the joint initiative with the Association Monégasque des Activités Financières (AMAF) which resulted in the creation of the Association Monégasque pour la Finance Durable (AMFID).
The Government Counsellor also mentioned the importance of financial and technological innovation in this transition, but also the role of entities such as MonacoTech or the Monegasque Innovation, Impact and Acceleration Fund (F2IAM) in ensuring that the local economy becomes more and more "sustainable" (creation of companies, jobs, facilitating the maintenance of innovation in the Principality etc.). Mr. Lionel Galfré, Director of MonacoTech, then presented the national incubator as well as two startups that it hosts: "Oghji", which aims to create digital, connected and eco-responsible electrical panels, and "Onyx", which produces photovoltaic glass, notably installed on the roofs of the Villa Florestine.
Finally, the other speakers, first and foremost the Mission pour la Transition Energétique (MTE) and the Société Monégasque d'Électricité et de Gaz (SMEG), spoke about the actions of the green fund to ensure energy efficiency and the deployment of sustainable solutions in industry, such as thalassothermal loops.