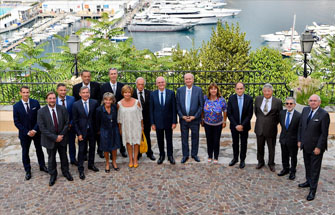 To mark the appointment of the members of the Data Protection Authority of Monaco (CCIN), Serge Telle held a lunch to which ministers in the Prince's Government were invited.
The lunch provided an opportunity to discuss forthcoming changes to Monegasque legislation on the protection of personal data that will bring domestic law into line with the highest standards now applied in Europe.
In this respect, the Chair of the CCIN was keen to emphasise the faultless cooperation between government departments and the Authority during preparatory work to draft a bill designed to introduce structural changes to current legislation.
This joint work, which was begun nearly two years ago, has facilitated a useful exchange of views and experiences, helping to ensure that future Monegasque legislation will, of course, protect fundamental rights and freedoms, and also take account of aspects that are specific to the Principality.
Discussions also focused on the process of getting European authorities to recognise that Monegasque law is sufficiently consistent with the General Data Protection Regulation, which has been in force throughout the European Union for more than a year.