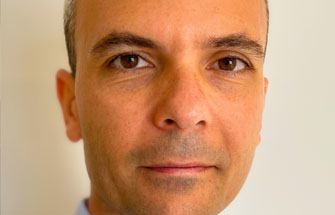 Massimo Passamonti is passionate about innovation, technology and management. This engineer graduated from the Polytechnic School of Milan and the Ecole Centrale de Lyon and specialized in finance after an experience at CERN. After working as a Director in London for Commerzbank AG, then as Director of structured products at Mediobanca, his entrepreneurial spirit took over: he created PRIVATAM seven years ago, and is its C.E.O. today. He is currently completing an Executive MBA at INSEAD in Fontainebleau. Interview.
How was PRIVATAM born?
The company was created in 2014 in Monaco by four partners, three of whom are based in Monaco and one in London. Today, 27 associates work with us in Monaco, and we are expanding rapidly. We plan to hire three new associates by the end of the year to support our future growth and develop our business. Our ambition is to continue to improve our support to asset managers in the creation of their tailor-made investments, all over the world.
What markets are you positioned in?
Our main market is Latin America. So it's a market that we know very well and to which we are attached. We have been established there since 2014, we have an office and teams there. It is our historical market and we want to continue to expand our business there while developing new markets. Our DNA comes from there and we are very proud of it.
Switzerland is also an important market for us. We opened an office in Zurich three years ago.
But PRIVATAM's headquarters are in Monaco and we are very happy with that, even if it is not always easy to recruit employees there. However, we do manage to attract experienced and international talent. Diversity is very present at PRIVATAM and is illustrated by the fact that we have 40% women, all age groups, 19 nationalities and a dozen languages spoken. We believe that diversity is a real asset.
How are you evolving?
Our core business remains structured products, customized products. We work a lot with start-ups in Monaco on subjects related to asset management and how technology can be used to help asset managers. We always move forward with this in mind. We are constantly asking ourselves how we can better assist asset managers in choosing the best "tailor-made" investment according to their own criteria. Our digital platform PARity is proof of this, and is constantly evolving. It is also a platform that has been very well received by the CCAF because it is unique in Monaco.
What services does it provide exactly?
Most of the time, asset managers contact us for a need for structured products. But they are not always familiar with the world of customized investment products, and often need support in their decision making. This platform will help them, taking into account all their objectives, including performance objectives. It is very intuitive and easy to use. With this technology, they can discover new investment ideas, compare offers among several investment banks and simply track their portfolio and its performance.
The generation of investment products is automated and enriched by our recommendations so that asset managers can simply customize the products that interest them. To do so, we provide them with materials to help them in their decision making. We believe that education is key in our industry. We are working hard on it and we will continue to focus on it in the coming years. In short, PARity is a guided discovery, structuring and execution platform, an artificial intelligence model.
A team of 5 people at Privatam works exclusively on the technology. I insist on the fact that we have found real engineering talent in Monaco, more easily than in London, for example. Some of them were already familiar with the financial world, which is essential because PARity is almost an integrated WealthTech. When we develop a prototype, we immediately test it with our clients. Our agility is a strength and is made possible because we have no external investors. This model allows us to create freely, to think about what we want to put in place and to do things we believe in.
Through FinTech and WealthTech developments, will the machine soon replace the human?
We believe that the future does not lie in technology itself. Technology can solve extraordinary problems in very simple ways. But we believe that in the world of Wealth Management, human intervention is essential. When we thought about the platform, our problem was: how should it add value to the process? I like this concept: we use an extraordinary machine to do the same thing a thousand times, and an extraordinary human to do a thousand things in one go. Do you see the difference?